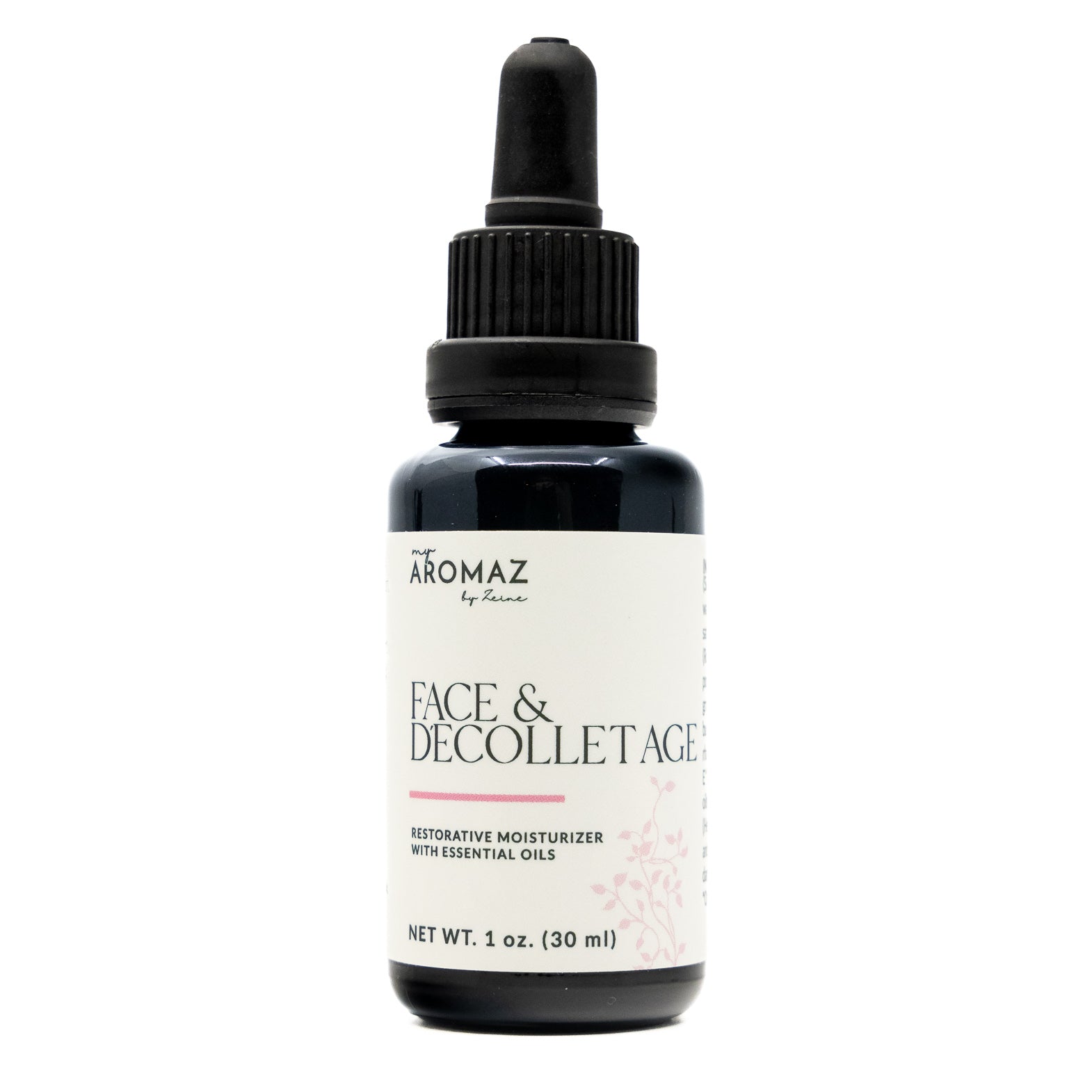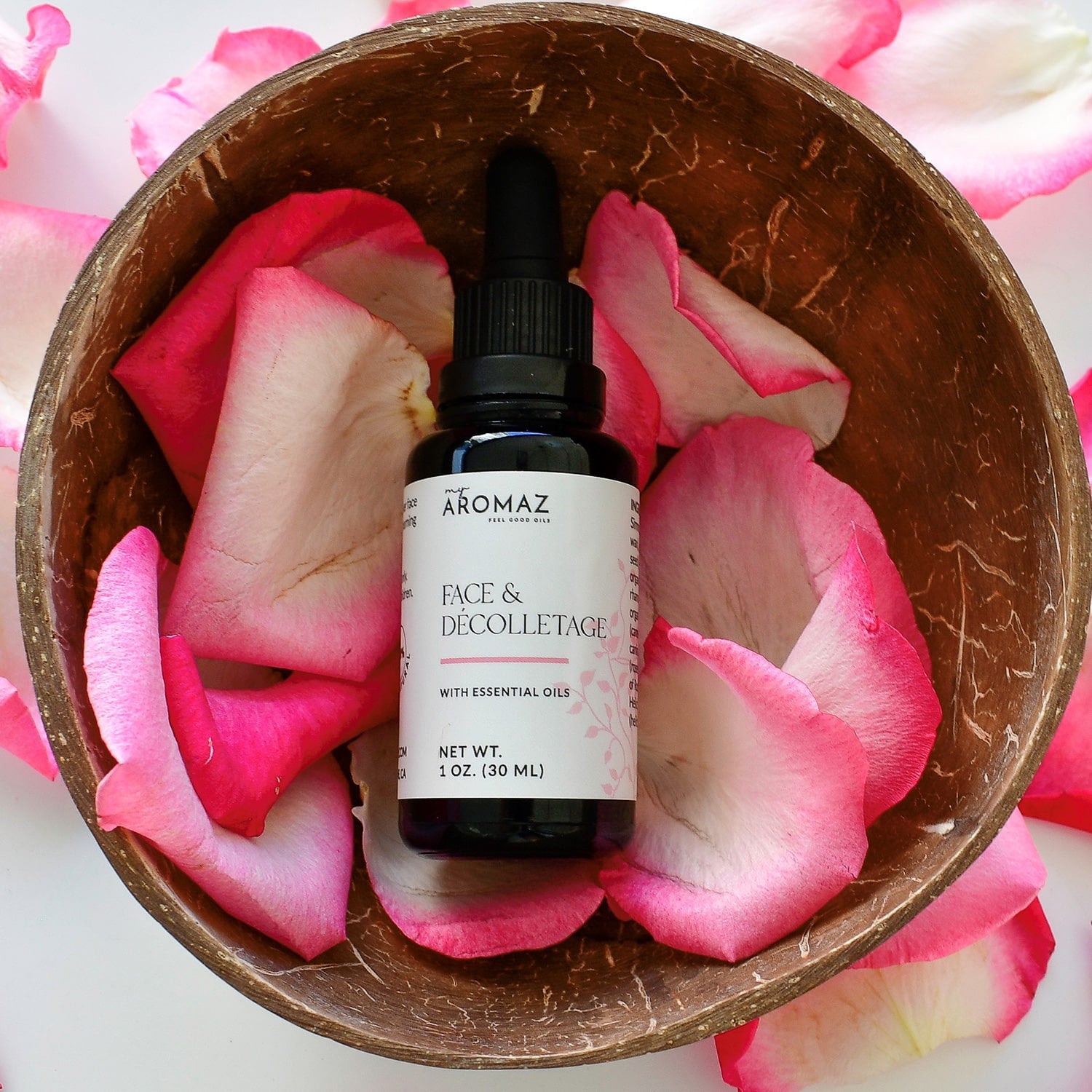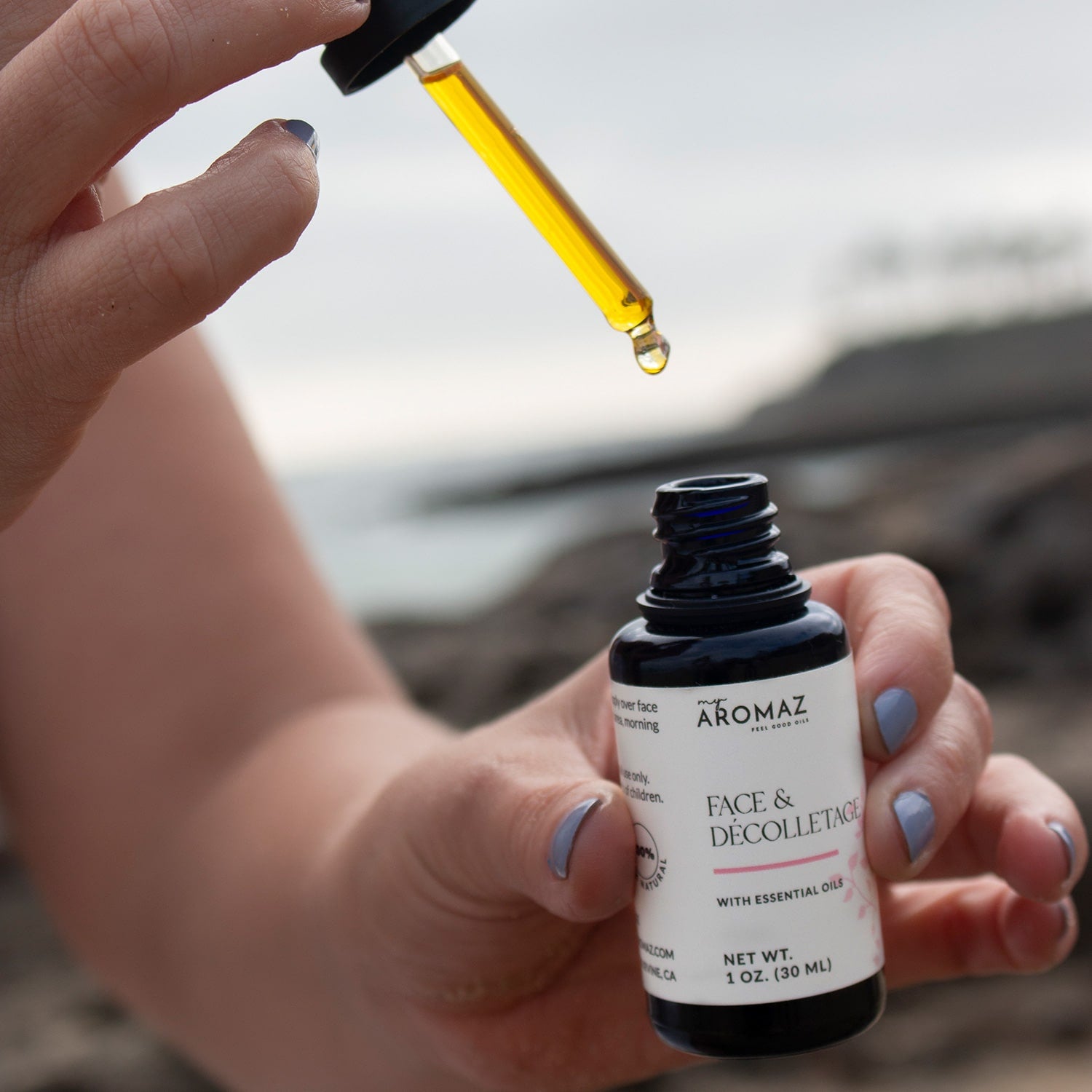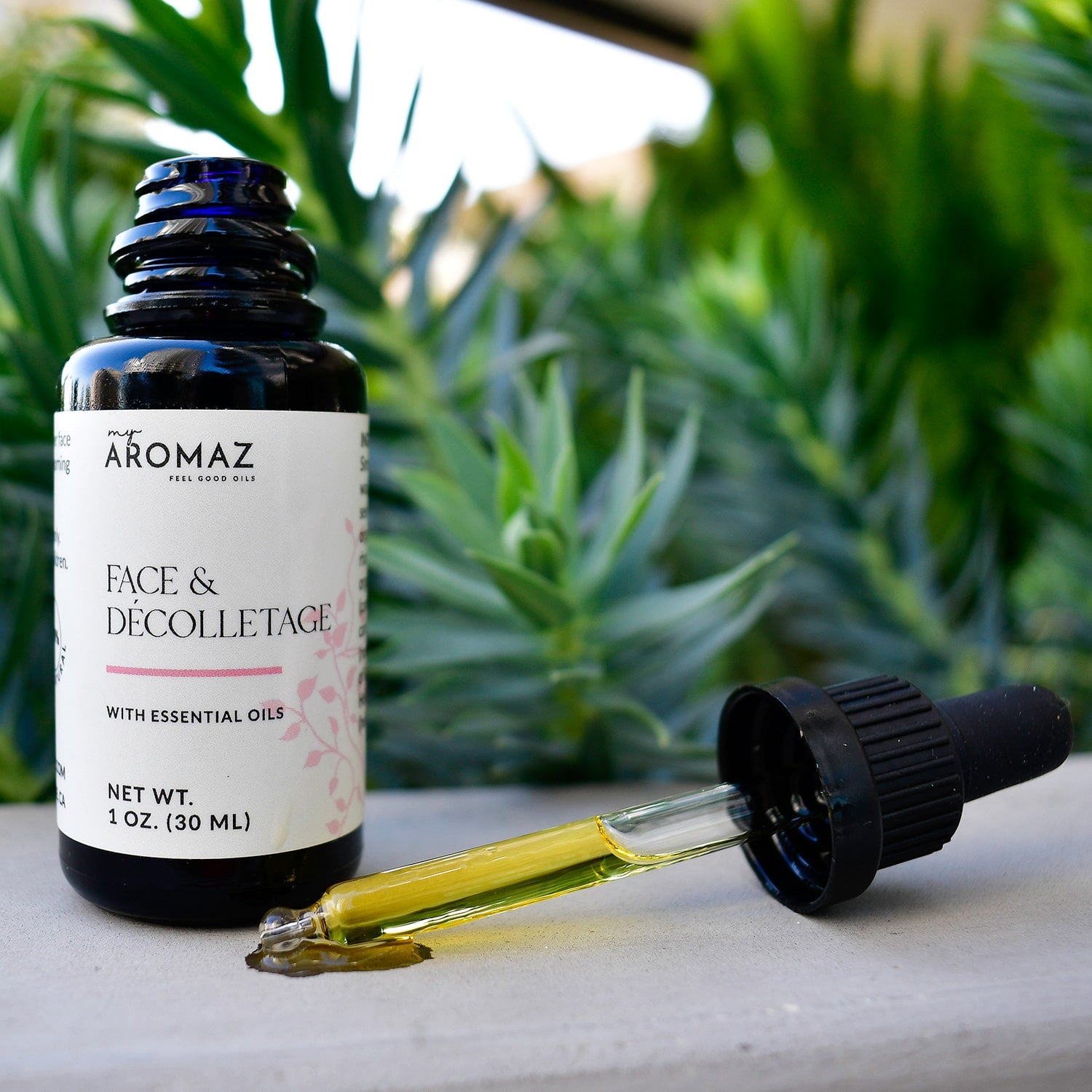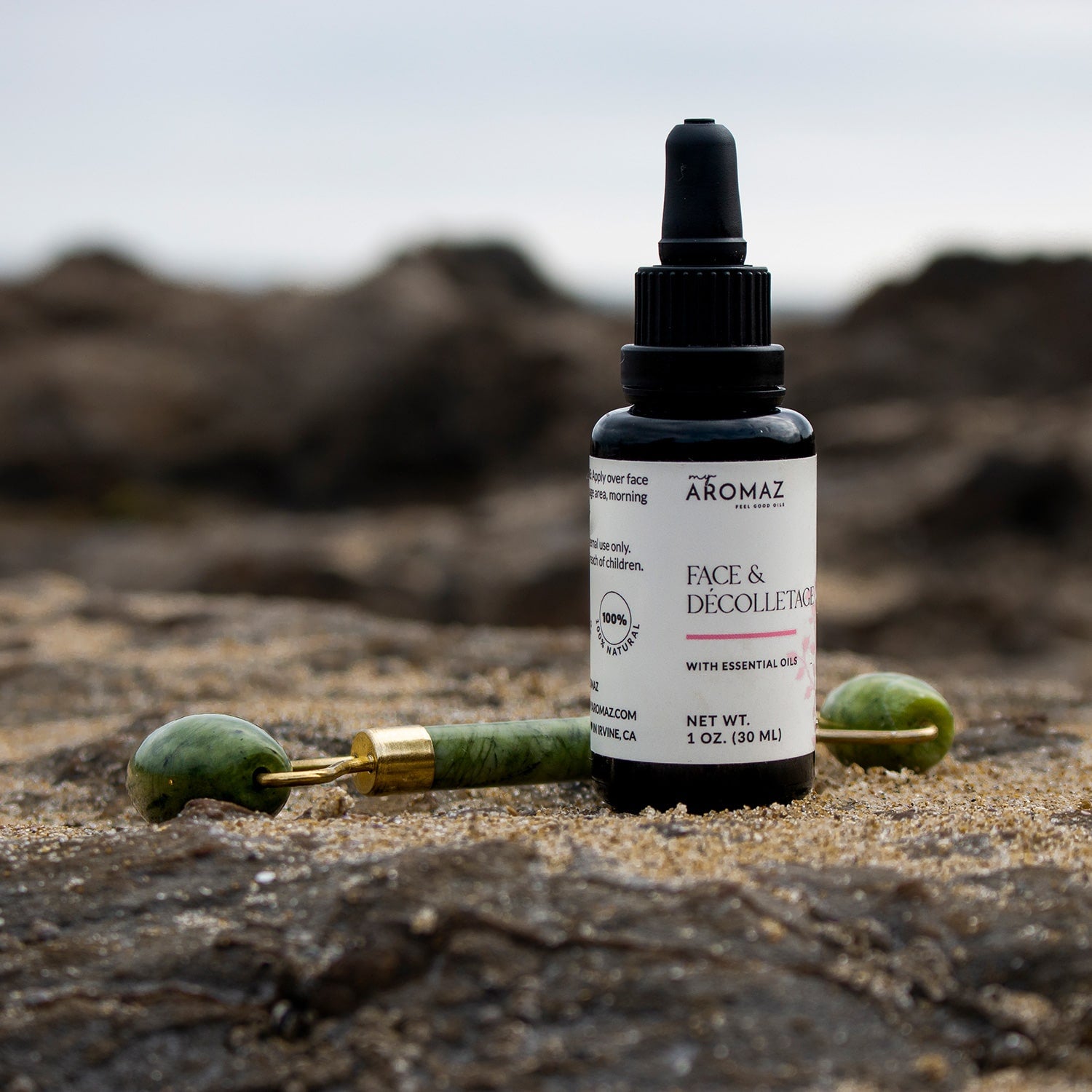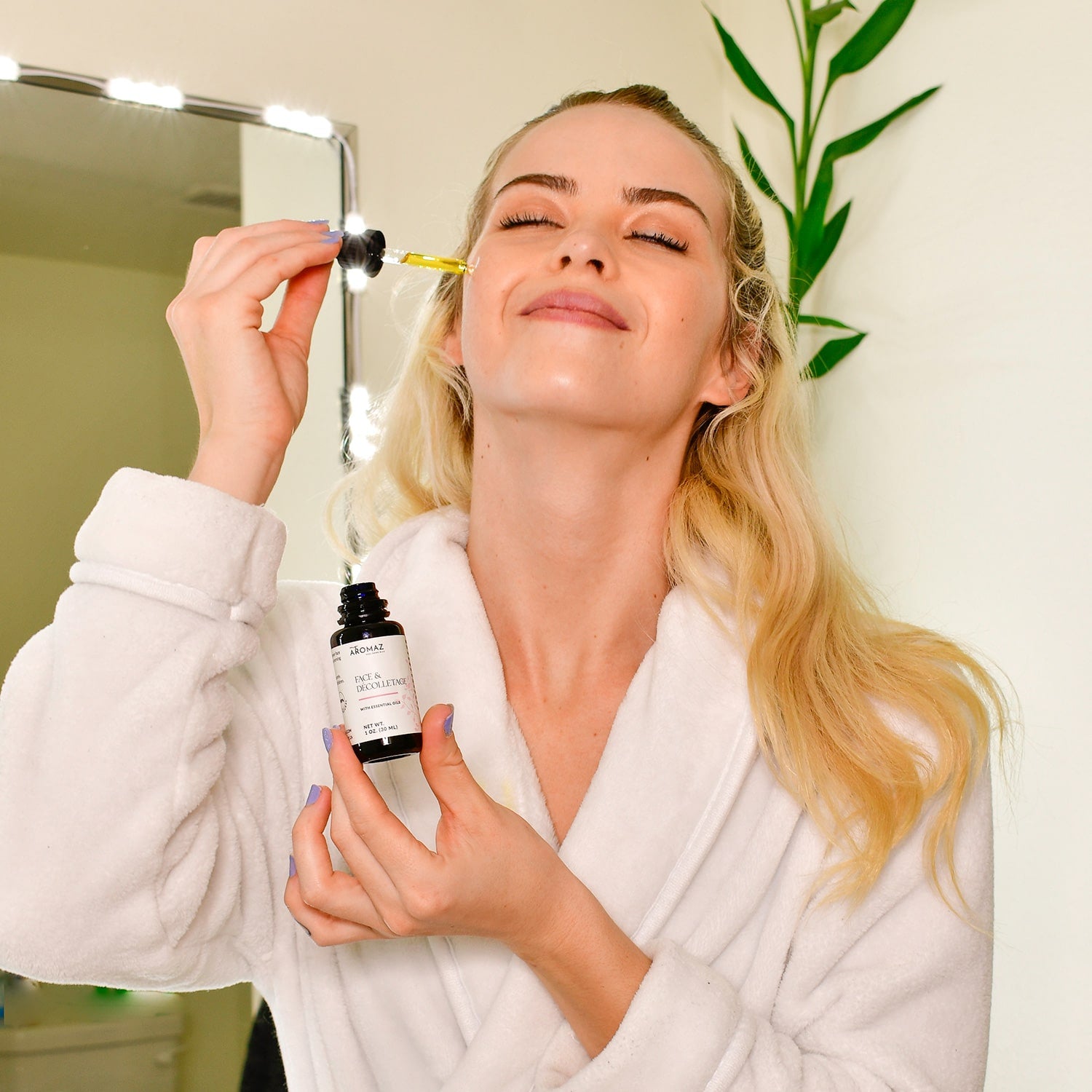 Face and Décolletage Moisturizer
Face & Décolletage | Restorative Moisturizer | with 100% Pure Essential Oils
Sale price
$36.00
Regular price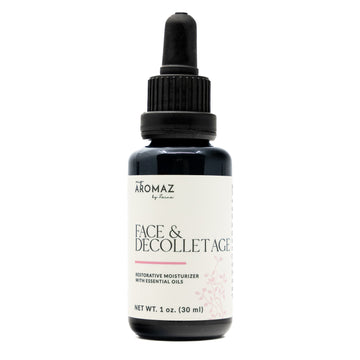 Face and Décolletage Moisturizer
Sale price
$36.00
Regular price
About Face and Décolletage Moisturizer
Our Promise
Product Features & Benefits
Ingredients
Suggested uses
Directions & Safety
Infused with the goodness of pure essential oils and organic herbal oils, Face & Décolletage blend provides deep moisturization, rejuvenation, and nourishment for a radiant complexion.

Face & Décolletage oil is a revolutionary skin care product that has been carefully formulated to provide optimum moisturization, regeneration, and protection for your face.

This lightweight oil absorbs quickly, leaving your skin feeling soft and radiant. The oil is made with the highest quality ingredients, so you can trust that it's gentle even for the most sensitive skin.

Aside from the physical effect, this oil blend also helps you level up your self-care, providing you with a fleeting moment of pleasure and relaxation.

Using our Face & Décolletage moisturizer to nurture your skin allows you to reconnect with yourself, generating a sense of well-being and confidence.

Disclaimer: These statements have not been evaluated by the FDA and are not intended to diagnose, treat, cure, or prevent any disease or health condition.
We are committed to offering only natural, high-quality products free from toxins, parabens, artificial fragrances, and colors. We only use oils and butter from sustainable suppliers who are transparent about their practices. All our blends are formulated by MyAromaz founder, who is a certified aromatherapist, to ensure quality and therapeutic value.

● Deeply moisturizes and nourishes the face, neck, and décolletage area.
● Helps fade the appearance of scars and recent burn marks
● Soothes and calms irritated skin
● The blend consists of a synergistic combination of antioxidants, peptides, and various skin-enhancing ingredients that work to combat the appearance of fine lines and dark spots.
● Environmental Protection: Your skin gets continuously exposed to environmental stressors, which can cause damage and accelerate aging. And so, to protect your skin from pollutants, our Face & Décolletage acts as a barrier to keep your skin safe!
● Made with 100% organic and natural herbal oils and therapeutic essential oils
● Suitable for all skin types, including sensitive skin. Our moisturizer is gentle yet effective in improving the appearance of scars and fine lines.
● Vegan-friendly, cruelty-free, and made with love for your skincare routine!
● Does not include harmful chemicals, parabens, or additives.

Message us any time of the day to get a soothing feeling for your overall health.
Phone: 9496326439 or send us an e-mail on team@myaromaz.com

The efficacy and several benefits of our moisturizer are derived from a carefully selected blend of ingredients. Each ingredient serves a unique purpose in nourishing, moisturizing, and protecting the skin.

Our Face & Décolletage moisturizer contains certified organic ingredients, which are:

● Jojoba Wax* (Simmondsia chinensis)
● Pomegranate Seed Oil* (Punica granatum)
● Sea Buckthorn Oil* (Hippophaes rhamnoides)
● Camelina Oil* (Camelina sativa)
● Rosehip Seed Oil* (Rosa rubiginosa)
● Rose (Rosa x damascena)
● Helichrysum* (Helichrysum italicum)
● Vitamin E* (Tocopherol)

*Certified Organic ingredients

Directions:
● Apply oil to the palm of your hand, using the dropper.
● Gently massage the product into your face, neck, and décolletage (upper chest area) in upward motions.
● Use it as the last step in your skincare routine, just before applying sunscreen if using
● For best results, apply morning and night. If you choose to apply once a day, we recommend using it at night because this is the time when your skin goes into repair and regeneration mode.

Safety Considerations:
● External Use Only. Avoid contact with eyes and open skin.
● Suitable for all skin types.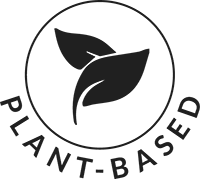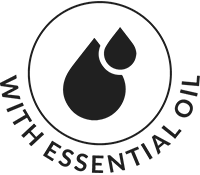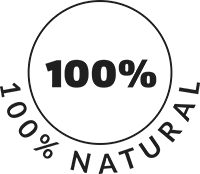 Consumers Corner
At My Aromaz, our team believes in the strength of real experiences and firsthand testimonials. We want to share the stories of the people who have embraced our products.

It's Whar We Do
We treat our customers with genuine love and care, and seeing their health improve fills our hearts with happiness. If you plan on having a nice and soothing feeling, join us to enhance your self-care for more amazing sensations!
Your Road Towards Better Health
Don't hesitate to contact us any time of the day and consult with us about your preferred oils that may help you achieve your overall health.