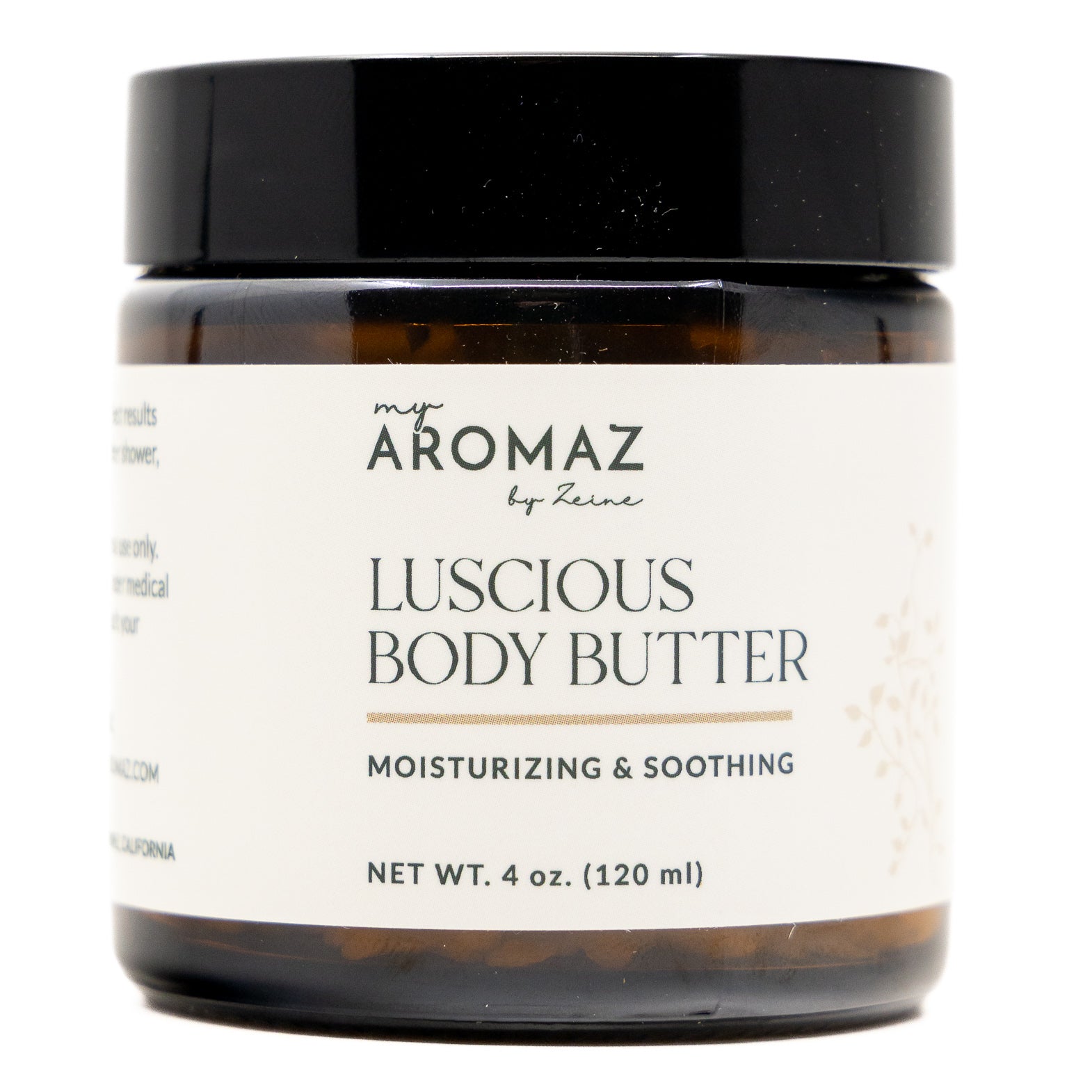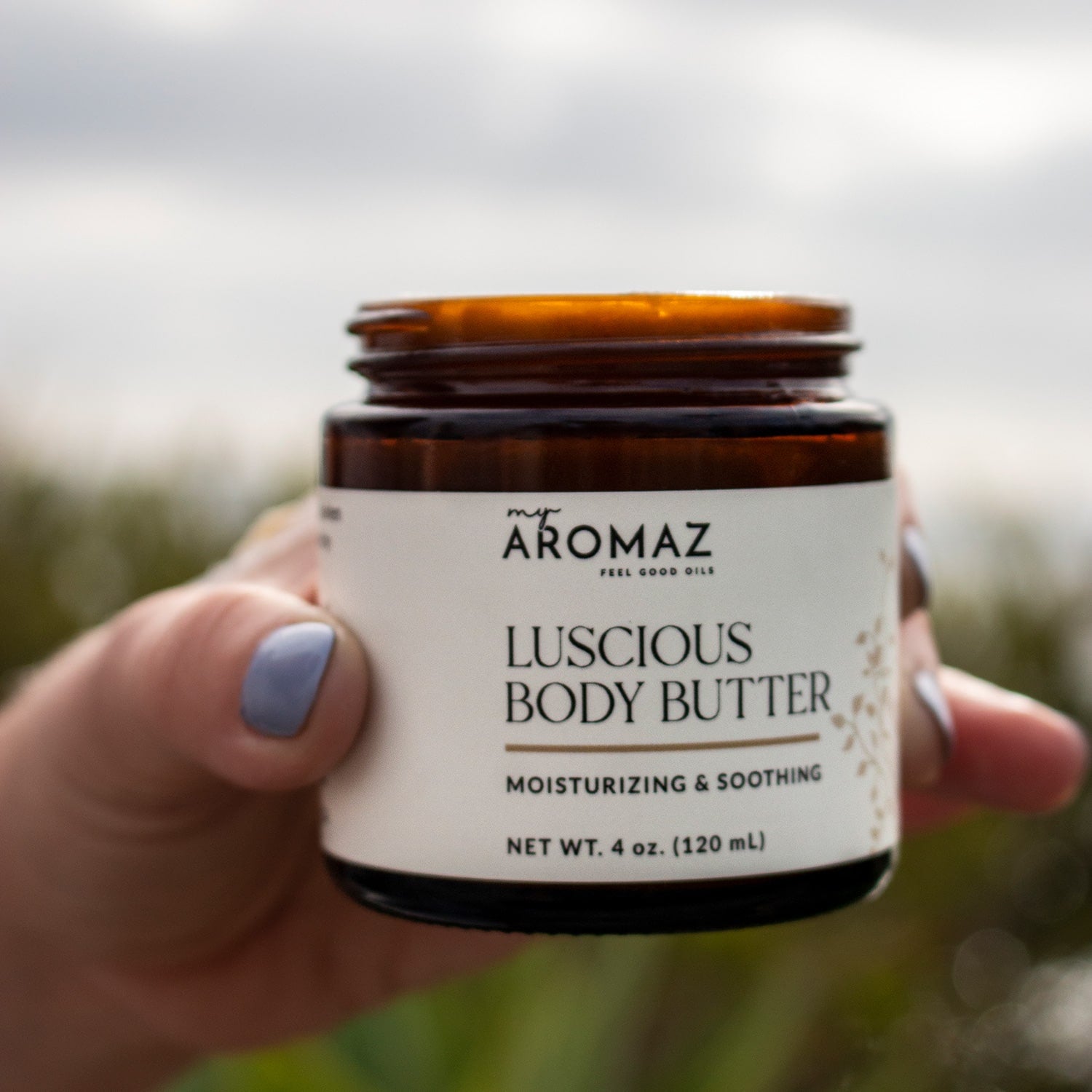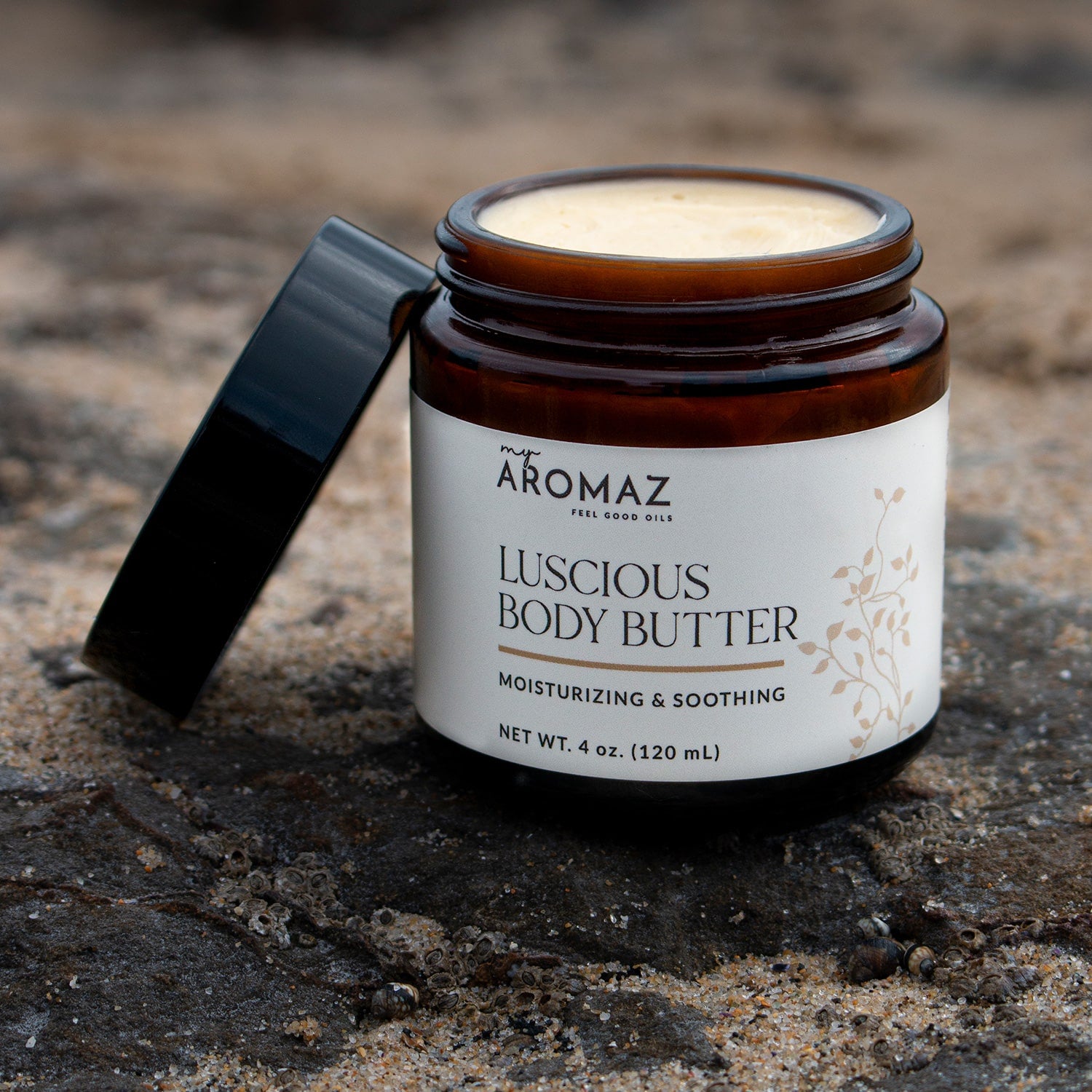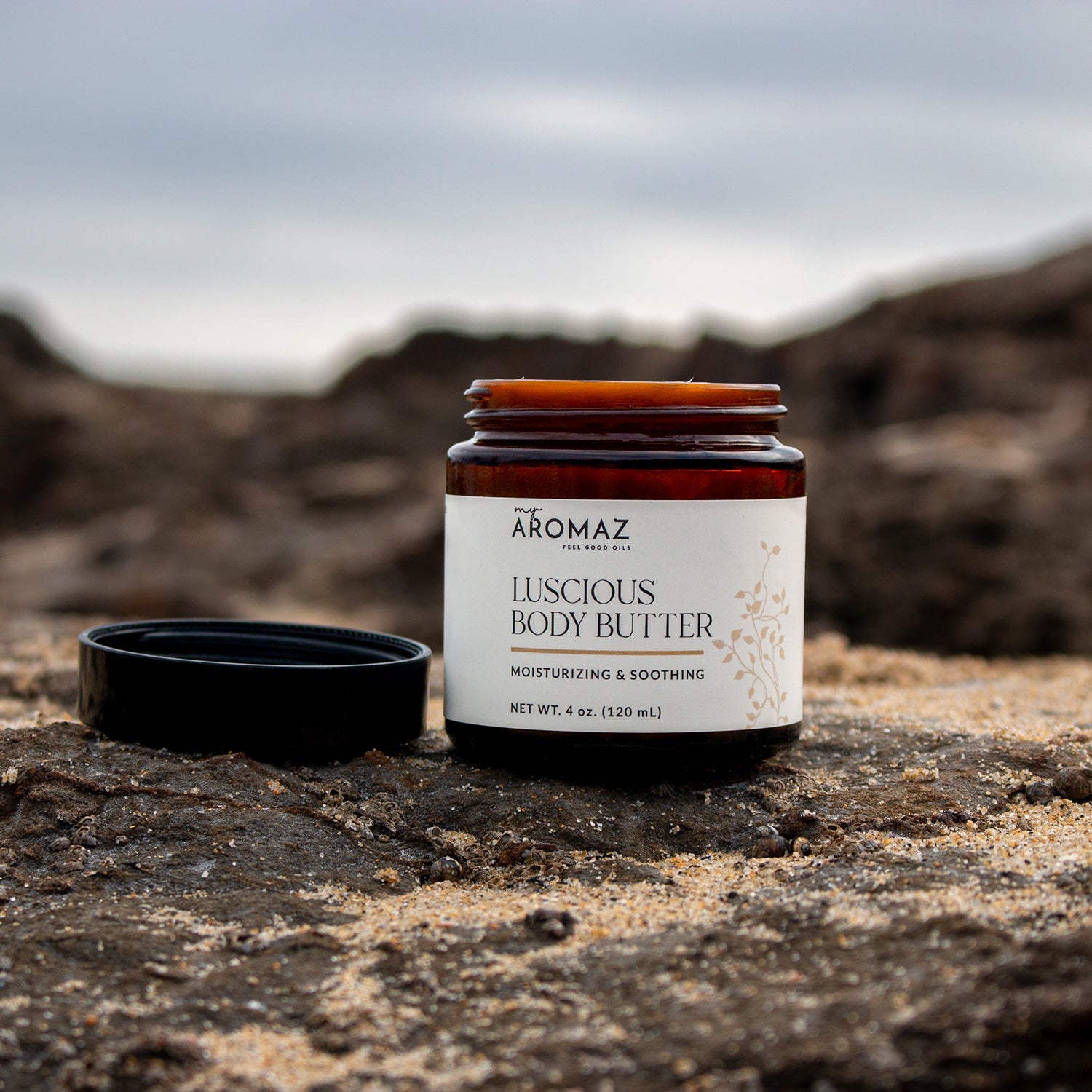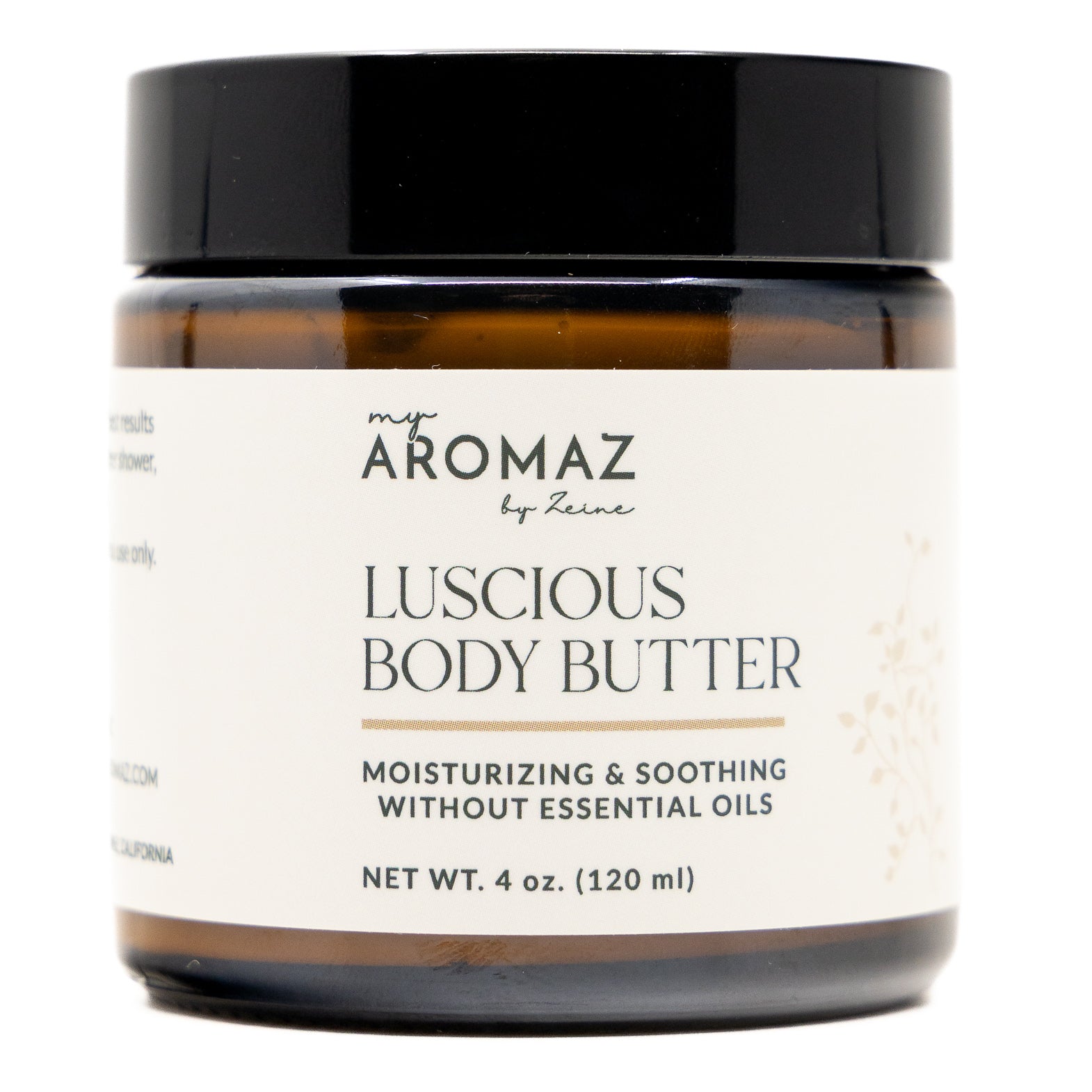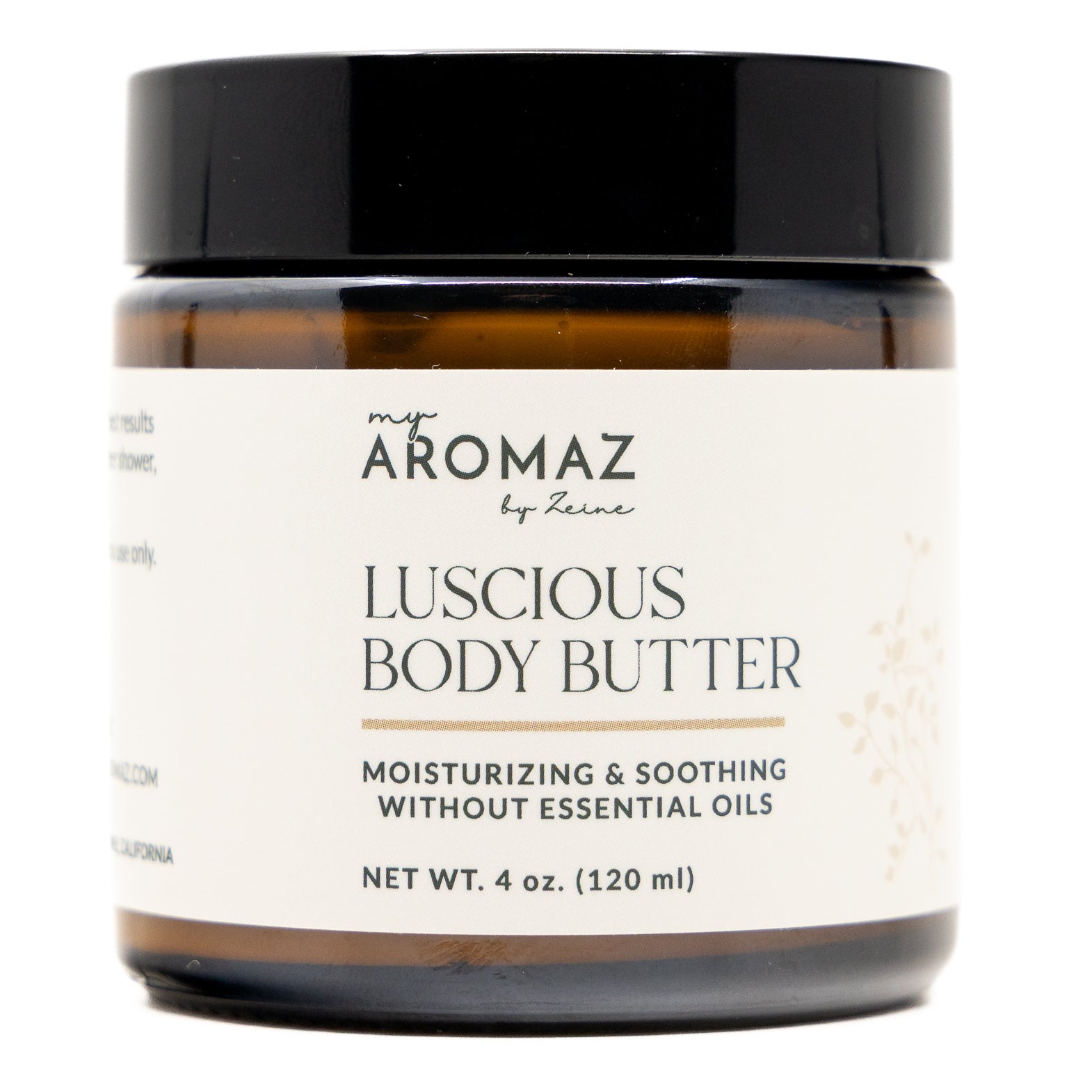 Luscious Body Butter| With 100% Pure Essential Oils (option with no essential oil available)
Sale price
$21.00
Regular price
About Luscious Body Butter
Our Promise
Product Features & Benefits
Ingredients
Suggested uses
Directions & Safety
Specially formulated to nourish and rejuvenate your skin, this luxurious body butter combines a harmonious blend of premium natural ingredients, promising to leave your skin irresistibly soft, smooth, and deeply moisturized.

Disclaimer: These statements have not been evaluated by the FDA and are not intended to diagnose, treat, cure, or prevent any disease or health condition.

We are committed to offering only natural, high-quality products free from toxins, parabens, artificial fragrances, and colors. We only use oils and butter from sustainable suppliers who are transparent about their practices. All our blends are formulated by MyAromaz founder, who is a certified aromatherapist, to ensure quality and therapeutic value.
● Deeply moisturizes and nourishes the skin, promoting elasticity and a healthy glow
● Soothes and calms irritated skin
● Provides a delightful refreshing scent that uplifts the senses
● Creates a protective barrier on the skin and locks in moisture
● Anti-bacterial and anti-inflammatory properties
● Only natural ingredients
● Vegan-friendly, cruelty-free, and made with love for your skin
● Does not include harmful chemicals, parabens, or additives.

Message us any time of the day to get a soothing feeling for your overall health.
Phone: 9496326439 or send us an e-mail on team@myaromaz.com
Each ingredient serves a unique purpose in nourishing, moisturizing, and protecting the skin.

Our Luscious Body Butter moisturizer contains certified organic ingredients, which are:

● Unrefined Shea Butter*
● Unrefined Coconut oil*
● Calendula Oil*
● Lavender * (Lavandula angustifolia)
● Orange * (Citrus sinensis)
● Arrowroot powder *
● Vitamin E* (Tocopherol)

*Certified Organic ingredients
The option with no essential oils contains the same ingredients as above, without the lavender and sweet orange essential oil. This option is ideal if you are in your first trimester of pregnancy or if you don't want to use essential oils. It is unscented, which means it basically smells like shea butter and the other carrier oils.

Directions:
● Using clean, dry hands, apply a small amount of body butter on your skin
● Avoid introducing water (with wet hands) to avoid shortening shelf life
● For best results on feet, wear socks right after applying.
● Always store in cool, dry place (not in the bathroom)

Safety Considerations:
● External Use Only. Avoid contact with eyes
● Safe for adults and children 3 and above.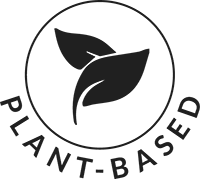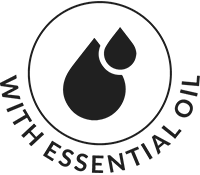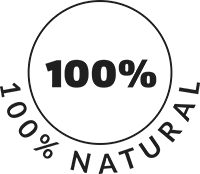 Consumers Corner
At My Aromaz, our team believes in the strength of real experiences and firsthand testimonials. We want to share the stories of the people who have embraced our products.

It's Whar We Do
We treat our customers with genuine love and care, and seeing their health improve fills our hearts with happiness. If you plan on having a nice and soothing feeling, join us to enhance your self-care for more amazing sensations!
Your Road Towards Better Health
Don't hesitate to contact us any time of the day and consult with us about your preferred oils that may help you achieve your overall health.